In an exclusive interview, Gucci's creative director Alessandro Michele opens up to Antidote Magazine about his vision for the brand, his most prized possessions and his fascination with the creepy side of beauty.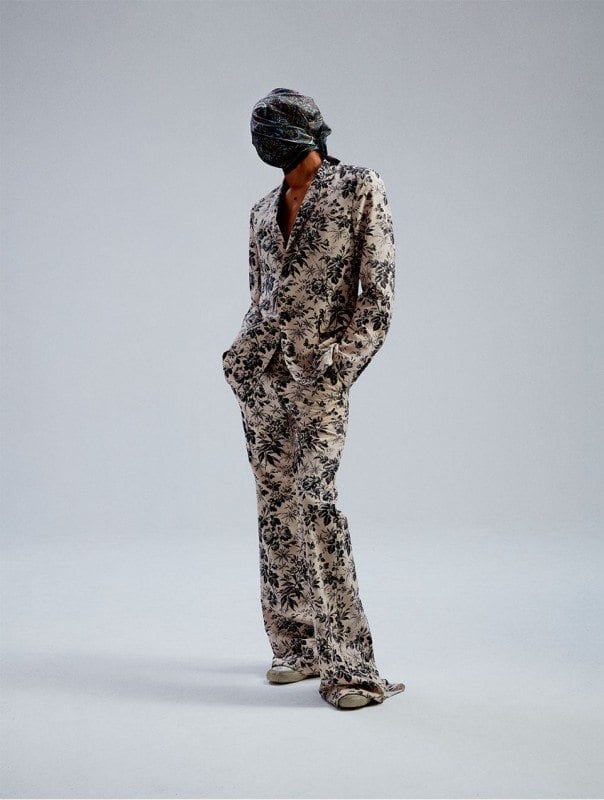 Jackson Hale. Suit, Gucci. Scarf, Ermenegildo Zegna Couture. Sneakers, Vintage.
When the world looks back at the tumultuous teenage years of twenty-first century fashion, the appointment of Alessandro Michele as creative director of Gucci will be pointed to as the moment the fashion world felt a seismic shift under its sartorial feet.  This was when the reactionary years of austerity in response to the global economic meltdown that started in 2008 were laid to rest. The time for morning was over, and a deep-seated need to celebrate the beauty in life bubbled up to the fore.
In the little over a year since taking up the reins at Gucci, Michele has redirected the fashion conversation. Thanks to him a debate about redefining gender roles has become a hot topic. He has brought about a revival for vintage designs and a new passion for eclectic attire that speaks to the individuality of a person rather than conforming to must-have "it" items. He has also made adornment, embellishments and ornamentation acceptable again.
"I think that the appointment of Michele at Gucci has proved to be a clever move for a number of reasons," said Tiziana Cardini, the fashion director of La Rinascente department store in Milan.  "From a practical and commercial standpoint, the collections are built seamlessly as a 'continuum,' regardless of season, size, occasion, gender, sex. They are composed of single pieces, items each beautiful in its own way, that can be mixed and matched to suit the wearer's (male or female) personality. There is really no more modern concept than that," she said.
Born in Rome in 1972 to a mother who worked in the Italian cinema industry and a father who held a job working for Alitalia, the Italian national airlines, but was an artist at heart. He spent his free time as a sculptor and Michele called him more of a  "a saint, a shaman". Growing up, Michele was a headstrong young man who was passionate about the music industry. He made his first connection to the power of fashion via the movie stars his mother would talk about when he was young and the '80s pop stars he would see in music videos on television.
His finally got his first foothold in the world of fashion via his costume design courses at the Accademia di Costume e di Moda in Rome. But he soon found that his creative passions lay in working with accessories. And as luck would have it, his first job out of college was at Fendi in the accessories department, where he worked alongside Frida Giannini and got firsthand experience with both Karl Lagerfeld and Silvia Venturini Fendi.
"Alessandro was the first person I worked with at Fendi," revealed Marco de Vincenzo, another rising star in the world of Italian fashion. "I remember I was fascinated by how he was relying on himself totally. On his instinct and his particular way to file memories, make them for him and translate them into objects. Designing was first of all a game to him, and this kind of lightness in his method was the thing I liked the most," he said.
It wasn't long before Tom Ford came knocking on Michele's door with a job offer in Gucci's accessories department. Both he and Giannini jumped ship to Gucci, and then when Ford left the company Giannini was moved up to the top spot while Michele ran the lucrative accessories division. It is a testament to Michele's talent that he was able to curb his effervescent design aesthetic to conform with the direction that Giannini had set out for the house.
But now, like a genie released from his bottle, Michele is bursting with elaborate ideas and clever concepts to engage the Gucci customer, as the house continues down the radically new path he has created.
A case in point was the launch of the #GucciGram project, a creative social media initiative that pulls digitally savvy fans of the brand even further inside the Gucci universe by asking them to become a part of the company's artistic image. Using Instagram as its platform, the brand has collaborated with a broad range of artists, both household names and newbies, that took up the challenge of incorporating Gucci's flower-filled #GGBlooms print and its #GGCaleido geometric-patterned prints into unique creations they posted to Instagram.
It's true that those who know Michele, with his long flowing hair, thick beard and antique ring-stacked fingers, talk about a man who lives in his own creative world. A designer who, when he speaks about his work and his inspirations, does so in a poetic way that brings to mind the sort of reflections Yves Saint Laurent would make about fashion and the creative world he inhabited.
"He has infinitely good vibes and you notice them the moment you're in his presence," said J.J. Martin, the editor-at-large for Wallpaper magazine. "He is calm and humble, and projects a sense of peace that is really rare with fashion designers, the majority of whom are plagued by various forms of fear or hysteria. He quietly goes about his business and is very focused. He's made some very daring choices but I got the sense he was doing all of it because he truly believed in it, creatively not commercially," she said.
Two days after he presented his fall/winter 2016 menswear collection, almost exactly one year after his official appointment to the top spot at Gucci, I sat down with the designer in his office in Milan.
It's a place I have visited before, when I interviewed his predecessor, but the transformation of the space is just as complete as it has been for the brand. The walls are covered in lush vintage foliage wallpaper that features a smattering of exotic birds. His desk is also from another time, when dark sculpted wood was de rigueur, and his sitting area is an assortment of colorful well-loved furniture that is fraying at the edges and faded, which somehow makes them that much more beautiful.
There is a sensation with Michele when you talk with him that nothing else matters. You have his full attention; his large brown eyes never waver in their regard. The few times when he struggled to articulate his sentiments it was clear that the issue wasn't a language problem. Rather, he was striving to find a way to translate into words — any words — the rich inner world from which his creativity is born.
Our conversation, transcribed below, is but a glimpse into that fertile mind. A mind and a man that, once experienced, are fascinatingly irresistible.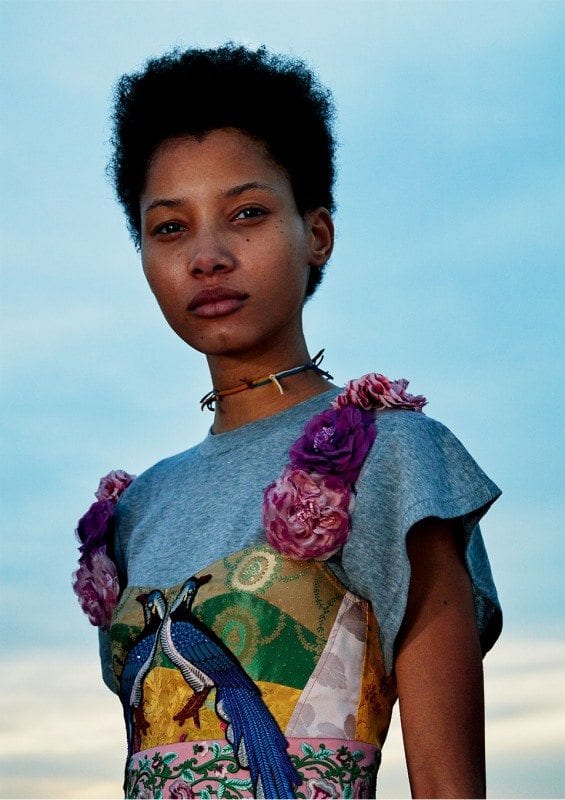 Lineisy Montero. Dress, Gucci. T-shirt, Isabel Marant.
ANTIDOTE : So it's been a year, how are you feeling?
ALESSANDRO : Good. Happy!
ANTIDOTE : Happy?!
ALESSANDRO : Happy because everything is unexpected. Something that make you really happy is when you didn't imagine it. If you plan something it's less powerful. But if it comes very naturally, it's beautiful because it's unexpected. It's like when you're a kid and you don't expect a gift and it arrives. It's beautiful because it's an amazing job and it's a gift from your life. It's very rare to have an opportunity to express yourself, your vision, your creativity in a brand that's so huge, you know? I feel very lucky also because I met Marco [Bizzarri], he's super smart, intelligent, respects the creativity. He loves the creativity.
ANTIDOTE : How do you feel now when you hear everybody calling you a revolutionary?
ALESSANDRO: I don't feel like a revolutionary man, I just feel myself (laughs). If the revolution is the beauty, I'm a revolutionary. I have my rules, so probably my rules are a bit revolutionary
ANTIDOTE : What are your rules?
ALESSANDRO : The way I work, the way I show the beauty. The way I think of an outfit, the idea you can play more and more with fashion. I don't know, I feel that everything is very normal for me. It's strange…
ANTIDOTE : That others think it's revolutionary?
ALESSANDRO : Yeah, it's nice in a way but I feel a little bit anarchic. When I was young, my mom always said, « For you, no is yes." But she also said: "It's impossible to say no to you because you always have a good reason to say yes." I mean, I have just one life and want to be free. If the way you are free is to show something beautiful, why not?
ANTIDOTE : You spent most of your career creating accessories. Why the focus on accessories? What is it about that that kept you inspired for so long?
ALESSANDRO : Honestly, at the beginning, I didn't want to be a fashion designer, I wanted to be a costume designer. And in a way, a dress makes sense if it has a soul. After, I started with a ready-to-wear and I understood that… When I was young, I wanted to go deep in the idea of the accessory because accessories are something very powerful. The right accessory is like a relic. I may be a bit fetishist.
ANTIDOTE : Really?!
ALESSANDRO : Yes, I'm a fetishist because I'm obsessed with objects, in the way that I'm in love. So this was the reason and I didn't think to the idea to be a complete fashion designer. Because I love clothes, but if I didn't have the possibility to do what I really wanted to do, I probably wouldn't accept the work.
ANTIDOTE : So Marco really did give you a carte blanche?
ALESSANDRO : Completely. He shared with me my vision, and this was completely what he expects from a creative person. But to come back to your answer, to me, accessories are a lot of fragments of your look. Your glasses, your pockets to put things in.  They are really relics, you know, objects. It's really difficult when you want to throw away something, the last thing you throw away is shoes. There is something very powerful in shoes and bags. The bag is your last apartment.
And shoes are how you want to show the look. Because if you change the shoes, then the look is completely different. If you go flat, in a heel or a strange kind of heel, in a color of pair of shoes, you can completely change your attitude.
ANTIDOTE : Talking about changing attitudes, we have to talk about the whole effect of the blending of gender lines. A lot of people point to you as somebody who really made this into a talking point. What is this fascination? Why do you want to have that mix and blurring?
ALESSANDRO : At the beginning, it was nothing planned. I was trying to show the beauty. I always try to show the beauty, and it's something that belongs to a category that is not really clear. If you are in the between, there is something irresistible. If you're not exactly beautiful but not exactly awful, not exactly a man or a woman.  It was the idea to express something that is not really black or white, but grey. In a way that life is. I always say that I didn't invent anything – it's humanity. And I didn't want to put out an exotic animal. This is another thing. I wanted to just talk about beauty, something that makes you feel, in a way like the Stendhal syndrome, or creepy. Because when you are quite scared by something that is so beautiful, like it's something bad.
ANTIDOTE : You like something bad?
ALESSANDRO : Sometimes when I see something I really love, I feel like I'm dying. It's true, no? When you are in front of something huge and powerful and beautiful, you feel "oh, I can't survive," you know. I mean, it's something that makes you feel uncomfortable.
Actually, the idea of genderless was something that the people from the press wrote about me, but again, for me, it was something so natural…
ANTIDOTE : You didn't think about that aspect of your work when you were designing it?
ALESSANDRO : No! I'm not saying people from the press are stupid. I don't want to say, "No, it was natural for me, why are you writing this?" because it was a piece of the story, but I didn't understand that it was such a big piece. For me, it was about beauty. Beauty is in-between.
ANTIDOTE : Clearly you are inspired by beauty of the past and yet it is my understanding that you are very fascinated about living in the now. How do you capture something that is so fleeting? What is this desire about?
ALESSANDRO : About the now… Now is life, the moment we are living. It's something you can touch. For me, contemporary… the future is now. I don't want to always talk about the future because I don't care. It's something that doesn't exist. You can try to let the future grow now, in the moment we are living. The past, I'm very inspired by the past, because I love the idea that the memory of the past is like something new, because memory is not a clear… Memory is not really the past, it's what you want to remember about the past, and something you want to re-touch, give a new life.
So the idea that you can take two pieces of apparently "without life" fragments from the past is like a chemical process. It becomes again alive. For example, Gucci is a brand that is full of past, but you can ignore the past, because it's also now. We exist because of the past. So I try to let my memories give me again the idea of this past. I live now, and I think the result of this chemical process is the contemporary.
ANTIDOTE : So you're a modernist.
ALESSANDRO : Yeah. It's for me, it is just language. My first collection was, for a lot of people, like a copy of vintage clothes, but I didn't even have one piece of vintage. But it was the memory, the attitude. For example, in that case the vintage was the fragment of Gucci with that kind of glorious Seventies past with some piece that came from other ages.
ANTIDOTE : What about your design process? Do you have a place were you go to be creative?
ALESSANDRO : Creation for me is like if you go mad. It's a place without a real place. It's really in my mind, it's like a nightmare, an obsession. It starts… I'm a collector, it's the same. I find a little piece and it becomes a fever. I don't have a place because the way I express my creativity in fashion has no place. I don't want to have a place in fashion. I prefer that people think I'm pretty floating between things. Because… I'm always in a bit of a dream.
ANTIDOTE : For years, Gucci went with this sexy Italian style. With you I feel it's more about the sensual. Would you say this is an important element of what you're creating?
ALESSANDRO : I mean, when I started, I didn't think about this kind of… I didn't want to give the attitude to the brand, sexy, not sexy… I didn't think about it. I think if we want to talk about sexy, I thought the sexiness is again the way you show yourself. I didn't have another vision. If you want to be engaged, you have to be yourself. This is the only reason you can be. Honestly, I think the work of Tom [Ford] was another dream of sexiness. It was the idea of the Seventies of the brand with his American culture. He tried to create a diva Hollywood sexiness and it's a kind of dream.  Something sexy but sensual in this kind of Seventies dream because Gucci is very Seventies in our mind.
For some reason, I feel close to Tom's idea, in a different vision. I'm Italian, so I have this problem with Renaissance, the beauty… I have to show and contaminate my Italian vision with something wrong. I understand that "wrong" belongs to beauty. If you try to break that kind of classic beauty with something wrong, it's spectacular. This is a sign of beauty you know, because you are different.
ANTIDOTE : Is there something in this world that you haven't done, that you really want to do?
ALESSANDRO : Yeah. A movie.
ANTIDOTE : What kind of movie?
ALESSANDRO : A Fellini movie, that kind. I don't know, a love story.
ANTIDOTE : Do you want to create the costumes or film it?
ALESSANDRO : I would like to direct it. And I also love to make costume, I dream to make costume. But I feel very connected with that kind of work. I think that it would be possible. I think that fashion is like inventing a story.
ANTIDOTE : You talked about being passionate and being a collector. What are you fascinated about right now? What are you dying in front of?
ALESSANDRO : There are a lot of things… Honestly, I think it's also visible from the last collection. I'm obsessed with trompe-l'oeil. I love the illusion. It's something that is not really what you are seeing, you know. Yeah, every time I go to antiques, and I find strange kind of decoration, wallpaper, fabric that is trompe-l'oeil, I'm completely… I feel like I'm playing, like a child. It's beautiful the idea that what you're seeing is not very clear.
ANTIDOTE : As you are such a prolific collector, I am curious: What have you recently bought that you love?
ALESSANDRO : The last thing that I bought that is really beautiful is a little box from 1400s, quite medieval, very beginning of the Renaissance. It's from Perugia and it's a beautiful box completely painted in fire and burning humanity. It's really nice because it was a money box from a church. It's spectacular because you have a little scary movie, but it's so contemporary, it's crazy. It's like Damien Hirst, if Damian Hirst had to paint something.
ANTIDOTE : You're a very positive person. Where do you think that positivity comes from?
ALESSANDRO : I had a dad that was a little bit like a saint, a shaman. He had really long hair…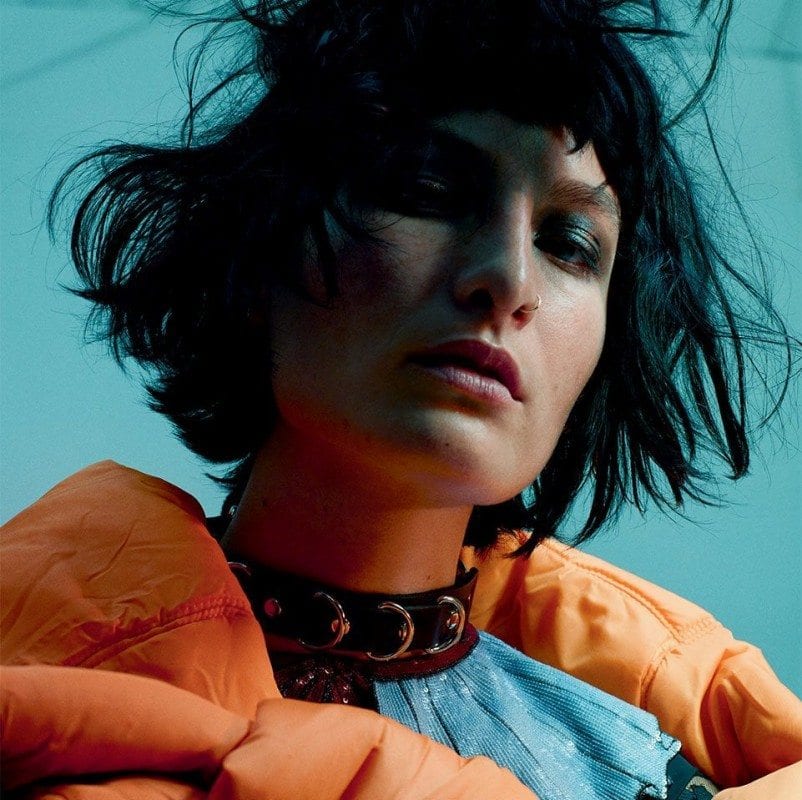 Heather Kemesky. Dress, Gucci. Bomber, Alpha Industries. Sneakers, Nike vintage. Chocker, vintage.
ANTIDOTE :  Is that where your long hair comes from?
ALESSANDRO : Yeah! He had a beard, he was a sculptor, talked with the birds… He didn't have a clock, he didn't know my age. He didn't remember when I was born. So he enjoyed everything so… Probably a big piece of this came from him. Because he was really powerful, I mean, I remember that when he died, I felt like probably I mean something will happen [to me] because I'm not more protected by him, like a shaman. Because he was always connected with nature and everything.
And also because I… I don't want to be sad. Because I mean I learned from my family and my dad, I don't want to waste the time being sad. I mean, to… lose the energy of myself by being sad. If I can be happy, I want to be happy. That's why I want to … surround my life with beauty.
And I love, I have a big empathy with people. I love humanity. I'm curious. I don't know, I mean, I don't know if I have one more day more, or sixteen day more. I don't want to know. But I am sure I want to be happy and positive for all those days.
ANTIDOTE : Then besides collecting antiques, what makes you happy?
ALESSANDRO : When I'm in very beautiful place, I'm happy. A beautiful person make me happy. If you are talking about something beautiful, it make me happy. If you are beautiful in the way you… that kind of vibration that I can feel from a person, makes me feel happy. I don't know… that kind of hidden beauty makes me happy. And yeah, beautiful garden make me feel happy. When I wake up, I feel happy.  I don't know why. I'm really happy to have my breakfast because I am beginning something. This is the beginning.
That's why I'm happy with my work. It's my way to live, you know. I'm like… I don't know. I'm really tired sometimes, but I don't want to be sad because I'm tired. I wanna give more space to the idea that I did a lot of things.
ANTIDOTE : I am curious to know if you have ever had the experience of walking down the street to have a coffee or whatever, and seeing someone in something you've created. What is that experience like?
ALESSANDRO : It's beautiful. It's something that belongs to you and I always say that when you work in fashion, you put a lot of you [into it]. If you are a real creative person, you do my job, it's put on the table yourself. So it's like if you are wearing my clothing its like we become friends in a second, because you have something of my wardrobe, my idea of beauty, we are exactly connected in a way, you know?
It's a positive sign, not just because you are proud of yourself, this is not what I feel. It's more… It's… It's a person that is connected to me in a way, because I created in a very personal way. Everything belongs to me, and I want to share with everybody, you know. It's something you want to share when you're very young, you feel cool, you feel you can do something cool, and if you appreciate this kind of attitude, we are friends.
It's like a gang.
ANTIDOTE : Let me ask you a classic question. What do you see as luxury today? What is your vision of what luxury is?
ALESSANDRO : Luxury is freedom, and time…and being courageous. Because you have to be brave if you want to live better. And probably be connected with love, in a way. This word makes you feel really alive. It's not because you're in a relationship. It's another idea, it's the idea that you feel alive and love yourself, and you love that you are alive. So it's the same when you wake up and put a beautiful dress on. You feel love/alive.
ANTIDOTE : What is your most prized possession?
ALESSANDRO : I have two things that I am very linked to.  Ah… One is a very material piece of my collection that is a beautiful painting, one of the most beautiful paintings I bought in my life and it's Dutch. Renaissance, beginning of the Renaissance painting that is beautiful and full of meaning inside. It's a painting of Mary, with her son, with San Giuseppe. On the back there is the fountain of eternal youth. With angels and some kind of demonic birds. The painting is unbelievable. It's so very beautiful, I have in my bedroom.
And another thing I really love is something my boyfriend gave me the first time I met him.  It was my birthday and he gave me a gift of a piece of mushroom. He is a researcher. And he's a professor in the university. He spent a lot of time working on a documentary with this group of natives from Canada. And he spent a lot of time with this shaman. [I see this as a] strange connection with my father in my mind. I was very sad at the time because not long before this my father and mother died.
ANTIDOTE : They had just passed away?
ALESSANDRO : Yes, so I was quite sad. So he gave me this piece of mushroom that a shaman had given him. Magical mushroom. And he told me that this shaman gave it to him because this kind of mushroom has the power. That if you are sad, if you are on the point to cry. If you burn the mushroom, it will cry for you and you stop crying. So I have this piece of mushroom.
ANTIDOTE : You kept it all this time?
ALESSANDRO : Yeah! Yeah! I mean, I was like at the point of crying. I was starting to cry and at the same time I felt alive. I said, « It's something… » there is something precious in this kind of experience. So I said, this man, I don't know where he came from but I want to stay all my life with him. I only spent like ten minutes with him, because he couldn't stay, but after he left I went back to my friends and I said, "I am in love with him." I said, "I don't know who he is but I don't care who he is!" I was completely… I mean… he is also handsome, but honestly, I didn't care. There was just something that was so…Anyway, this mushroom is really the most rare thing I have in my house. It is very precious to me.
[ess_grid alias= »antidote »]
Les plus lus
Que faut-il retenir de la fashion week de Londres ?