He just received the Legion of Honour in Paris and is one of the most beloved designers in Fashion. In an exclusive interview, Alber Elbaz, one of fashion's most beloved designers, opens up about his exit from Lanvin, what he has learned from his almost twelve months away from the fashion grind and what he would like the next chapter in his life to look like.
It is hard to think of a modern-day fashion designer who is more universally loved and admired within the industry than Alber Elbaz. It is perhaps for this reason that when the news broke late last year that Elbaz had been unceremoniously ousted from Lanvin – a brand that he spent 14 years nurturing back to life and returning to a place of prestige and respect – the fashion world recoiled in shock.
So too did much of the staff, which went as far as to demand a sit-down with the brand's owner Shaw-Lan Wang to air their concerns about the decision. There was even talk of taking legal action to try and somehow reinstate Elbaz. And in the wake of the designer's departure, a large portion of those employees that worked closely with him have now left the house.
Full disclosure. I have been an admirer of Elbaz, the man and the designer, ever since I saw his first collection at Guy Laroche back in 1997. To this day, I still regret not having bought one of those feminine tulle dresses with flowers sprouting up from the hemlines. It was this collection that helped me understand how transformative fashion can be and made me want try my hand at covering the fashion beat.
Over the years we have kept in touch and when it was decided that freedom would be the theme for this issue, I knew that it had to include an interview with Alber. For almost a year now he has been traveling the world, speaking at fashion schools, judging design competitions and in general just taking some well-deserved time off the fashion clock to take stock and reflect on what he wants to do next.
He and his partner, both in life and in work, Alex Koo, carved out an afternoon from their globetrotting travels to have lunch with me at one of their favorite restaurants on a quiet side street in the shadow of the Saint-Sulpice Church in Paris. There on the corner sidewalk table under the July sunshine, Alber had a surprise for me. Not only was he more fit and trim than I had seen him in some time, he was also sporting a new look – a burnt red hair color.
As we people-watched the elegant Parisians stroll past and tried each other's food, Alber talked about many different topics and has been clearly asking himself a lot of "big picture" questions about his future and the state of fashion in general. Among the things we discussed, he opened up about what it was like to leave Lanvin, how freedom is a state of mind and what he wants to do next.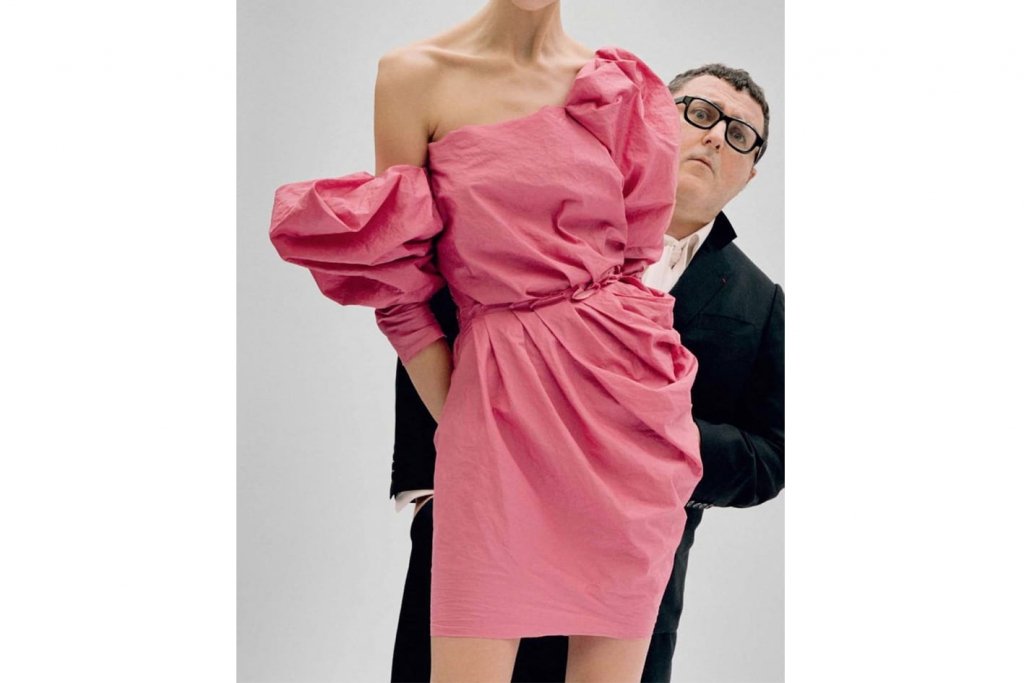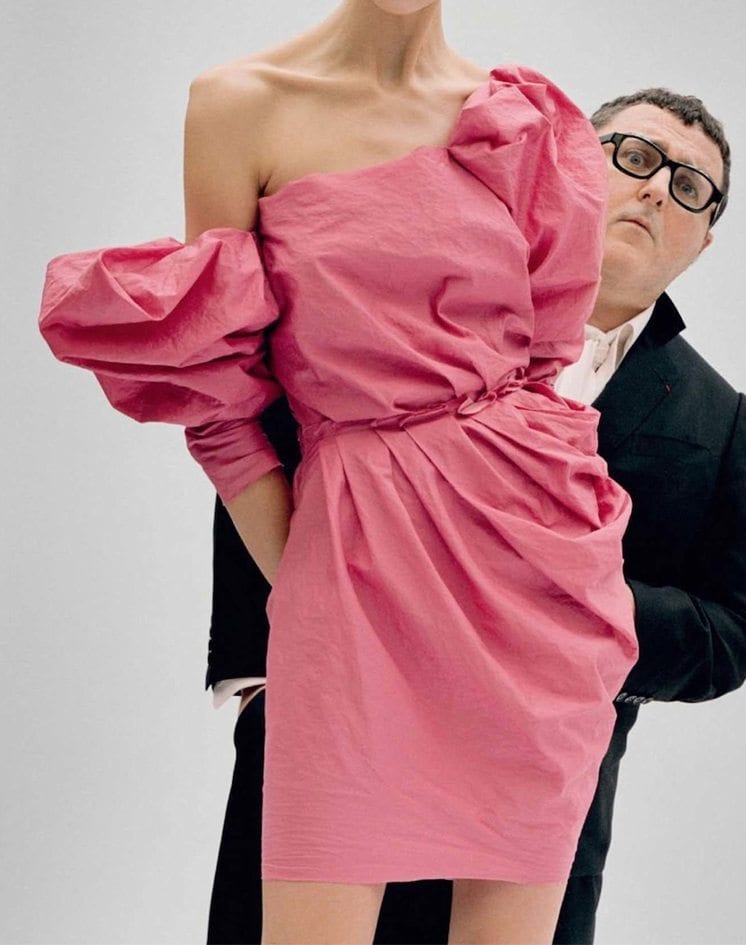 ANTIDOTE : So I have to ask, what is up with the hair?
ALBER: I was at Christophe Robin, who is a great friend of mine, and he said to me, "You know John [Galliano] was here and talked about you and he said that you should be a redhead," and I said… "ok," and here we are.
ANTIDOTE: What do you think of the results?
ALBER: It's very bizarre. It's a bit villain, like the villain you see in every movie. But, here we are.
ANTIDOTE: It's a big change. I remember when I wrote an article about Maria Grazia Chiuri going to Christian Dior, I talked about how any woman who changes her hair that radically, from pitch black to platinum blonde, is ready for a big change in her life.
ALBER ELBAZ: I think it is a very interesting choice. I think she is so talented. She has done a wonderful job with Pierpaolo [Piccioli] together as a team at Valentino. I am a big fan of the duo, so of course I was a little bit hurt when I heard the news that they were splitting. But maybe it is time for each one to grow on their own. It will be interesting to see how each one evolves now separately and independently. And I also give a huge credit to Dior, to Mr. Arnault and Sydney [Toledano] that they chose a designer with experience, with real experience. I wish her all the best because she is extremely talented, but also a wonderful person.
ANTIDOTE: So I have to ask, it's been about 8 months now since you left Lanvin. Are you at a point now that you feel a sense of freedom?
ALBER ELBAZ: You know, freedom is a state of mind. It's almost like solitude, you can be surrounded by hundreds of people and you can feel alone, and sometimes you are alone and you never feel alone. And that is how freedom is. You know, I am someone who really enjoys work. I love to work, this is when I really feel on vacation. When I am in a studio and I take a piece of fabric, when I start to cut into it and I start to take the dream, the abstractness, and make it a reality. That for me is what I am all about, and I miss it. I really really miss that. For me freedom today is the ability to do what I really love.
ANTIDOTE: You talk about feeling free and loving it when you are designing, but now there are some designers who have taken on much bigger roles in their companies. Like Christopher Bailey is now the President of Burberry and Alexander Wang is now the CEO and chairman of his brand. Then you have Justin O'Shea, who has never been a designer, now the creative director of Brioni. What do you think about this trend?
ALBER ELBAZ: It's not a new thing. Geoffrey Beene was the head of his company, Bill Blass was the head of his company and Oscar de la Renta ran his company. It also opens up this discussion of design and the power of design. Design is really the true fuel of this industry. Without real design and true design and deep thinking, it is no longer luxury. I also think that intuition is a very important ingredient, especially in luxury, and I think that we have to go back and give place to intuition.
« Today almost every famous actor or socialite is calling themselves a designer. »
ANTIDOTE: But with the designers, with the work they have to do creating so many collections – then there is the social media and the press and creating an advertising campaign for a collection – can they also take on the role of a CEO and still be creative? Don't you think designers are becoming marketers? 
ALBER ELBAZ: I think that for designers it is not just about coming to the studio and doing fittings. When I was at Lanvin, I was working on the collection, I was working on the show, I was working with the architect on stores, I was working on the store windows, I was working with the PR and hiring people. So, besides the financial side, you really are doing everything. And I think when you are a designer, you cannot say "I am just a designer." If you want a brand to have a focus and one direction, you have to do more than just design. But now the question is, what is design? This is the biggest question. How you define design? Is designing just about going onto Google to do research and redoing what you see there? Is it just giving a big team a theme and then you just come and correct it? Today almost every famous actor or socialite is calling themselves a designer. So how do you define their job, what they do? I think it is a very open issue.
ANTIDOTE: Well, what about you? You said that you feel you're freest when you are designing a garment. Do you think that you have had enough time away from the action and are ready to step back in?
ALBER ELBAZ: Maybe. Time away was a beautiful healer. And it allowed me the space to think, even though it is not always easy to have so much time off. But I think that I start to know what I want to do. I mean, on one hand I want to feel and on the other hand I want to think. I love the idea of some sort of a democratic luxury. How do I bring prices down? And how do I work with the mass market, and what does that mean really. I hate the words mass market, because its very messy. But it's like how do you take high street and high fashion and keep the "high" without being high… if you know what I mean. You know Alex and I did a tour of the world like twice already, and you see that something interesting is happening. Like Uniqlo is packed with people. They are buying, and you see there couples in love, mothers and daughters and girlfriends all buying, you see life… and that is what attracts me. You know, fashion is like food, if it isn't edible, it's not food. If you don't eat it today, it's rotten tomorrow. So if we do something in our studio, then it has to have meaning, that someone ends up using it. And also what I was always all about was finding ways to combine the need and the dream of fashion, to find a middle ground without turning it into a mediocre product.
ANTIDOTE: Let's talk about love. Whenever we meet, love always is a part of the conversation. And looking back at what happened at Lanvin, you had this crushing blow and at the same time there was this huge outpouring of love for you, both from the people who worked closely with you at Lanvin and from the fashion community at large. What was that like for you?
ALBER ELBAZ: It was an amazing moment for me to see so much love generate. I think that is what saved me. You know, because I put so much into the company for all those years that I was very very hurt when it happened, on a personal and emotional and a professional level. But I saw all this love, and the respect, from the staff that worked with me and all the support from the industry and from around the world. It was great because they didn't refer to me as just a designer but also as a person. That was also the reason why I joined Instagram.
ANTIDOTE: I wondered about the timing of when you joined Instagram.
ALBER ELBAZ: At first I didn't want to and then I was asked by Kevin [Systrom] if I was part of Instagram and I said, "no" and he said, "how come?" and I said, "I don't have photogenic friends, I have real friends." I didn't see the reason to photograph every dish I get at a restaurant and every airport I am arriving at. And then when I saw how much love I was getting from everyone. It was so beautiful. I would get a message from a big editor, and from the owner of a company and then I would get one from the maid, and then from one of my assistants, and from other designers and it was a melting pot of people reaching out to me. You know, I always refer to fashion as a family business rather than an industry. You know what, at the end of the day we have a beautiful industry with a lot of gorgeous people – and by this I mean good people, with a heart. People who say what they think and they think what they say. I am a big lover of this industry. That is why I started to be more involved with some schools and some competitions.
ANTIDOTE: Yes, I noticed that you hosted the "Designer for Tomorrow" competition in Berlin and that you posted a couple of photos on your Instagram of the winner, Edda Gimnes, and her cool outline dresses. 
ALBER ELBAZ: You know, when I look at the over 200 dossiers that they sent me for that, the moment I saw hers I said to myself, "she is the winner," I just knew it. And then when I saw the show, with all the other contestants, online – because I didn't want to make my decision on that first emotional moment – I saw a lot of great work. But it just made me even more confident that she was the one.
ANTIDOTE: I found it interesting that you liked her work, where you see the outline or sketching on the clothing, because I remember you telling me that after everything that happened at Lanvin that you couldn't sketch anymore.
ALBER ELBAZ: You know, I am still doing a lot of thinking. And I am thinking to myself what is it that we are doing today to make our work different and better. What can we change? How can we move forward? How can we produce smart design without just being intellectual? Why has the world of technology taken over the glamour from fashion? What have we done wrong? How can we bring back that glamour to fashion?
ANTIDOTE: Well, looking around you, at designers like Azzedine Alaia or Dries Van Noten or others…is there a shining example, or direction, that you appreciate in particular? 
ALBER ELBAZ: You know, Jessica, I always like individuality. I always like people who stand out from the crowd, who are more authentic. Of course, what I see Azzadine and Dries are doing, I really respect that. But I think that there is so much to do today in fashion that is fascinating me. You know, when I got the Fashion Group award, the one Meryl Streep presented to me, it was all about the system and how it doesn't work. And I think there is a real problem with the current system. And we have to find a way to make it fun again. I mean, is there a need to do so many huge collections, so many times? What does it mean when women see a show in January and then have to wait to July to get it. Do they feel that they are already buying something old? Is there a solution for that? When you go to a store, do you really need 9 floors of products?
ANTIDOTE: It sounds like you are looking for a streamlined version of fashion.
ALBER ELBAZ: Focus. Focus. Focus! To get back to the essence, to really see who women are. You know, now I have time to go to lunch, I see women more and you know what I see is a lot of confusion. I think women today are confused about what is it that is right and how to put it together, and I know that everything right now is about "how we have to mix it". But you know what, for me fashion is not about mixing vintage, it's about creating vintage. It's not about futurism either. I am not into futurism and I am not into vintage. What design is really all about, something that I always say, is that it is a little bit like being at a crime scene. You actually get in there and you have to erase the evidence. So you can be inspired by the past but at the end of the day when you present your work – it can have the flair of something – but there has to be a newness. I am very much about newness. I am very much about today and the needs of today.
« But you know what, for me fashion is not about mixing vintage, it's about creating vintage. »
ANTIDOTE: And how do you feel about this obsession fashion has with youth?
ALBER ELBAZ: You know, my good friend Julie Gilhart sent me this little article that said that 70% of purchasing power comes from women above 50 years old. And yet only 5% of advertising that is generated focuses on these women. Think about it. I am not saying that "ok now we have to work with a geriatric philosophy." It's not about that. For me I really design for all women – I am color-blind, I don't see the difference. And I don't have a problem with skinny or overweight, or young and old. I don't see this stuff. For me they are people, they are women. Catering to the needs of women of different ages and body shapes, this is my job! And I have a problem when I see a show and I learn that a lot of the collection is not for sale – that it is just for the image. That's not my thing. I think that if you invite someone for dinner you let him eat what you have prepared. You don't show him a table of food and then tell him, "we are not eating that," and then take him back to the kitchen to eat.
ANTIDOTE: You and Alex have been together for 23 years as a couple and you worked together at Lanvin. For the past 8 months you have both been free, and together, at the same time. What has that been like?
ALBER ELBAZ: It's an interesting moment. For a very long time we were working together but we were also partners and now we are back to being a couple.
ALEX KOO: (Smiling) We had to go through some adjustments. You know, both of us are workaholics, and we love what we do. It's not like we have family and children to divert our attention and time. And like Alber always says, Lanvin was like his baby, it was also our baby. And we put everything in there and we worked with our hearts. So, of course, at work it was a bit challenging because he was the big boss. But at home… no,no,no… you know… and it's not always easy to leave everything behind when you close the front door. But there is a lot of patience and understanding between us. We really trust each other.
ALBER ELBAZ: Because it is very easy to surround yourself with yes men. At least with Alex I have someone who I know will always tell me the truth.
ALEX KOO: We have a lot of discussions. We read, we talk about things, what is going on with women. I mean, a lot of great ideas came from when we would have a little coffee together and just talk. It's a continuous dialogue.
ANTIDOTE: So what are you working on now Alber? 
ALBER ELBAZ: What I am looking for now is newness in what I do next. And how I can be more relevant today.
ANTIDOTE: But there definitely is a next chapter. You are not planning on washing your hands of fashion?
ALBER ELBAZ: I love fashion – are you kidding me?!
ANTIDOTE: So when am I going to be able to buy a new "Alber Elbaz" original?
ALBER ELBAZ: Soon. Trust me, I want it more than you do!
[ess_grid alias= »antidote-home2″]
Les plus lus
L'iPhone est-il une drogue ?