At this point everyone's memory of the month long fashion month is a bit of a blur. But there were still some stand out moments in Paris that rose above the sleep deprived fog that clouded the brain by week's end. Here is what Antidote won't forget.
MESSAGE RECEIVED : T-SHIRTS WITH SOMETHING TO SAY

From left to right : Paco Rabanne Spring/Summer 2017, Sacai Spring/Summer 2017, Haider Ackerman Spring/Summer 2017, Christian Dior Spring/Summer.
Forget Instagram, Facebook and Twitter this season in Paris designers went old school to get their message across. They simply plastered them onto t-shirts sported by models in their shows.
The message that made the biggest impact came from Maria Grazia Chiuri with her debut collection at Christian Dior. She had a number of tees with messages on them but it was the " We Should All Be Feminists" top that went viral on social media. But she was far from alone when it came to designers wanting to get the word out. Haider Ackermann went with "Be Your Own Hero" and Chitose Abe at Sacai stated "Fashion Is A Passion". Then there was Redemption's designer Gabriele Moratti who's cotton tee asked the question "So What" with a peace sign in place of the O. It was all about "Futuresex" at Paco Rabanne and at Sonia Rykiel sweaters honored the recently deceased founder by outfitting the knitwear with some of her bon mots scrawled in red on the back.
MODEL MARATHON : THE HARDEST WORKING MODEL IN FASHION
If we were to base this title just on the model who got the most social media coverage over the month then the winner would be Gigi Hadid. She opened, closed or walked in what felt like every single show in Paris, considering how many images of her were posted online.
But the real winner this season was Selena Forest. She came out ahead on a three-way tie with Camille Hurel and Jess Picton Warlow (all of them walking in 52 shows) because she opened and closed a few more key fashion shows. Forest, who recently had the coveted spot on the cover of the Summer 2016 issue of I-D magazine, started her career opening the Porenza Schouler ss16 show. And this season the Californian native not only walked in over 50 show, she walked for almost all of the biggest houses in the game. Louis Vuitton, Chanel, Valentino, Dior, Loewe, Yves Saint Laurent and Chloe were just a few of the brands that tapped Forest. Her status as the it-model of the season is uncontestable.
STATEMENT SLEEVES : TIME TO SHOULDER UP
From left to right : Celine Spring/Summer 2017, Jacquemus Spring/Summer 2017, Paco Rabanne Spring/Summer 2017, Balenciaga Spring/Summer 2017.
The exaggerated shoulder and outsized sleeves trend began to pop up in Milan at the Dsquared2 and Dolce and Gabbana shows. But it was in Paris, where designer Demna Gvasalia started the movement for outsized shoulders in his debut collection at Balenciaga last season, that the trend really took off. Not only did Balenciaga continue to explore intriguing shoulder construction, so did Jacquemus, Celine, Mash Ma, Vivienne Westwood, Emanuel Ungaro and Stella McCartney.
Back in the 80s women worn power suits with padded shoulders to take on the male dominated business world. The design helped women mimic the physically of their male counterparts, but physiologically those XXL shoulders also symbolized the weight and pressure that women felt were on their shoulders as they entered the work place. So the question must be asked, what burden are women shouldering today?
KIM KHAOS : KIM KARDASHIAN HOLDS UP PARIS FASHION WEEK

Kim Kardashian & Kanye West attend Balmain's aftershow at Loulou.
Terrorist and social strife couldn't succeed in bringing Paris to its knees but when reality TV star Kim Kardashian was robbed of 10 million dollars worth of jewelry at gunpoint in her hotel, by five gunman disguised as police officers, on Monday it looked as if it would be the City of Light's undoing. The international media storm surrounding the incident gave Paris another black mark on its already tarnished reputation. Although one highly placed French fashion editor did make the remark that the skill with which the robbers pulled off the heist showed just how resourceful and creative the French could be.
Kardashian has yet to return to her numerous social media feeds to comment officially about the incident. When she finally does give her first exclusive interview count on Paris not being talked about in a flattering way. But Paris has existed for hundreds of years before Kardashian came to town and it will certainly survive this latest blow to its character. And would a Paris Fashion Week without any Kardashians be such a bad thing?
FASHION REBIRTH : THE NEXT ERA OF PARIS
From left to right : Valentino Spring/Summer 2017, Christian Dior Spring/Summer 2017, Saint Laurent Spring/Summer 2017, Lanvin Spring/Summer 2017
Finally it was time to see what all the fuss was about. In the history of fashion never have four of the most influential fashion brands in the world all debuted new designers in the same season. But that sartorial perfect storm happened in Paris this week as Christian Dior, Yves Saint Laurent, Valentino and Lanvin all unveiled the next chapter in the history of their houses. Designers Maria Grazie Chiuri (Dior), Anthony Vaccarello (YSL), Pierpaolo Piccioli (Valentino) and Bouchra Jarrar (Lanvin) presented their new vision of the house they now called home. All of them had one thing in common. Each, in their own way, created a collection that had at its core the idea of empowering women. And that is news worth celebrating.
FASHION LOVEFEST : ALBER FOREVER
The whos who of the fashion world gathered at the Minster of Culture on Monday to bear witness to designer Alber Elbaz become a member of the Legion of Honour, the highest French order for military or civil merits that the country awards. After a moving speech by Audrey Azolay, the Minster of Culture, and a touching, but also delightfully funny, acceptance speech by Elbaz – that included a symbolic use of a thimble (you had to be there) – many in the room had tears of joy in their eyes as they embraced the designer and admired his stylish new metal.
BIG GOSSIP : BRIONI'S BOMB
Brioni Fall/Winter Campaign 2016
At the tail end of Paris Fashion Week the front row was whispering about the news that Brioni had parted ways with its creative director of less than a year, Justine O'Shea. The appointment of O'Shea raised eyebrows when it was announced in March as his previous job had been not as a designer but rather the global fashion director of the online luxury fashion site MyTheresa. Brioni presented O'Shea's first any only collection for the menswear brand during the couture shows in June to mixed reviews. But it was his choice to use Metallica as the face of the brand that generated the most buzz for Brioni. Apparently it was a buzz that the brand's loyal clientele did not care for. This was one of the shortest creative director tenures in recent fashion history and sends a strong message that being a creative director does not make someone a designer.
PLEATS PLEASE : PARIS LINES UP
From left to right : Wanda Nylon Spring/Summer 2017,  Balenciaga Spring/Summer 2017, Sacai Spring/Summer 2017, Chanel Spring/Summer 2017, Haider Ackermann Spring/Summer 2017
Stripes continued to be big in Paris, but the idea was pushed even further by moving into the textural suggestion of lines via the pleating of fabrics. Besides Haider Ackermann's fantastic pleat filled collection, the attractive accordion style popped up on the Chanel catwalk, at Louis Vuitton, not to mention Valentino, Balenciaga, Sacai, Raul Mishra, Wanda Nylon, Lutz, Veronique Branquinho and, of course Issey Miyake.
REBOOT : THE NEW LUXURY BOOT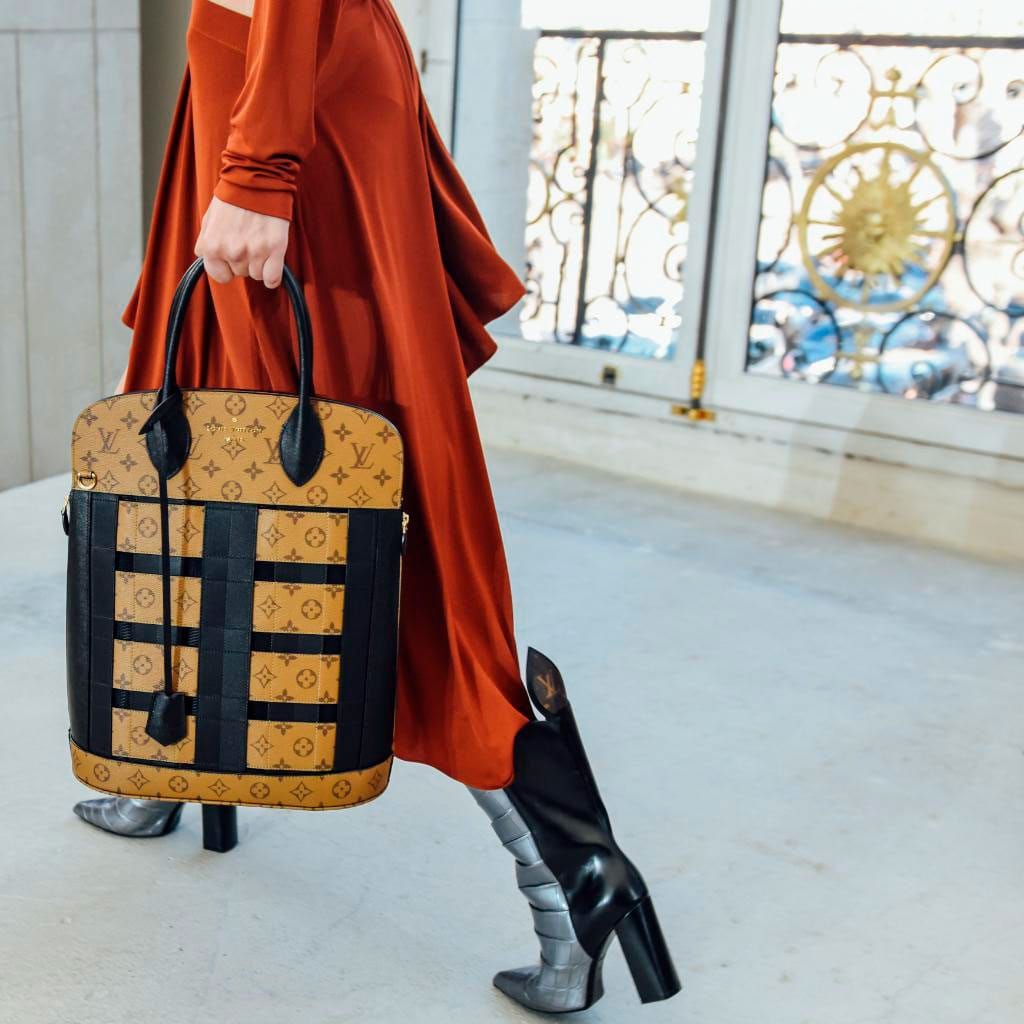 Louis Vuitton Spring/Summer 2017
On the last day of Paris Fashion Week designer Nicolas Ghesquiere gave those of us who hate showing of our toes in summer a savvy new alternative- the Louse Vuitton cowboy boot. They came down the catwalk in ankle or calf lengths and looked particularly cool when worn with short skits. This left exposed the LV logo tab at the back. This was a clever design move because it created an original new way for devotees of the brand to show off the Louis Vuitton name. But it was also a practical tool to help pull those exotic, often metallic hued, boots on in the summer heat.
A WELCOMED RETURN : OLIVIER THEYSKENS
Olivier Theyskens Spring/Summer 2017
After two years away from the fashion spot light Olivier Theyskens presented signature collection in Paris to just 60 guests. Those that were lucky enough to witness the return of the highly respected 39 year old designer to the runway were treated to a collection that proved Theyskens had learned a lot from his time with the American brand Theory. Where once his eponymous work would be sartorially challenging, if still extraordinarily lovely, now there was a balance. The designer, who is self financing the collection, has finally found a way to bring art and commerce together in a show that bodes well for the Theyskens's future.
STYLE SURPRISE : RIHANNA'S GOT FASHION SKILLS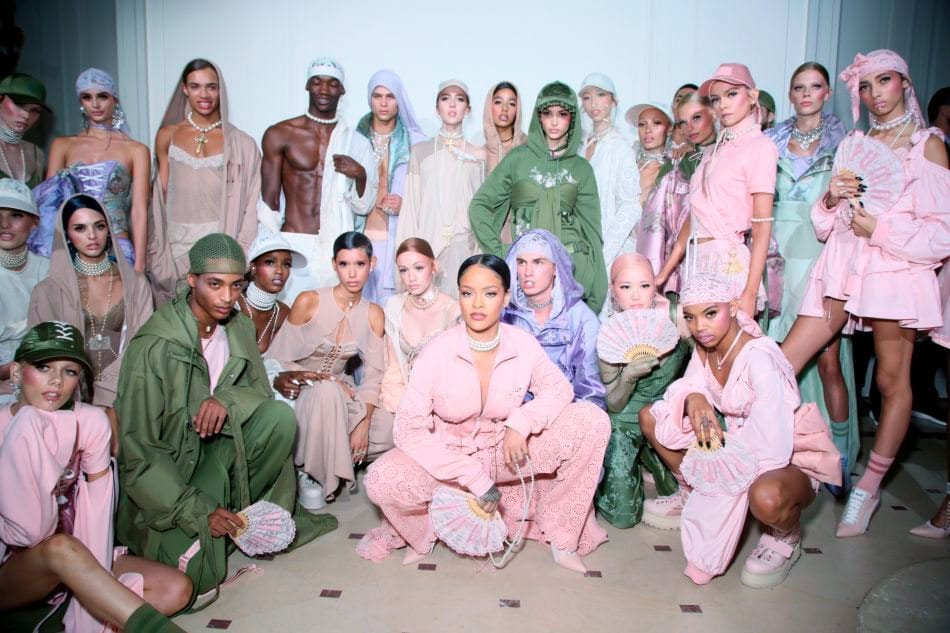 Fenty Puma Spring/Summer 2017
It's harder then it looks to be an artist in one creative field and then try and transition successfully into another (Kanye we are talking to you). But in on of the biggest surprises of Paris Fashion Week Rihanna pulled off her debut Fenty x Puma collection with such skill and substance that made it seem like she had been a designer for years.
Riri is one of the world's most adventurous fashion plates but on her runway the clothing deftly mixed the gilded halls of Marie Antoinette's Versailles with the urban street attitude of today in a way that was both feisty and feminine. The casting was spot on and included friends like DJ Sita and model/activist Adwoa Aboah, while the styling was a perfect mix of bling bling and bass ass. Also, and this is important, the clothing looked well made and from quality materials. It looks as if Puma always has all the right ingredients for a successful high profile collection. It was just missing the right cook in the kitchen to bring the sartorial recipe to life. With Rihi it has found the perfect chief.
[ess_grid alias= »antidote-home2″]
Les plus lus
L'iPhone est-il une drogue ?