In a nation like Italy, where change is mired by attitudes as stubborn as the ruins it has been shaped by, the fashion world has been testing the odds. And as the prowess of the old fashion oligarchy starts to wane, new talent is beginning to eclipse the pillars of old. One of the champions of the ongoing renaissance is Vogue Italia senior editor Sara Maino, who has launched the trajectory of many, through Vogue Talents, a scouting platform and special issue that comes out twice a yeau, and the Who's On Next contest – two initiatives she has helped pioneer.
Among the prominent designers that have surfaced over the last 15 years — Andrea Incontri, Paula Cademartori and Marco de Vincenzo among them — fashion leaders here estimate Maino has worked with over half of them.
« You realize that a lot has been going on over the past few years. Until now, we have been dominated by the fashion gotha, » said Maino.
At Maino's office in Vogue Italia's headquarters, figurines like a wobbling Sengoku Bushin warrior and a 2014 Holiday Barbie still in its box inject a dose of levity in an environment inundated by phone calls and a barrage of emails from PRs and aspiring fashion stars.
The young girl, who aspired to be a linguist, the girl who summer camped in Maine and Catalina Island as a child every summer and listened to ghost stories by campfire, never envisaged that she would one day work in fashion.
At an early age, she began working at 10 Corso Como, the upscale Milanese boutique that is owned and curated by her mother Carla Sozzani, the sister of Franca Sozzani, Editor-in-Chief of Vogue Italia. But despite her connections, Maino said she had to start at the magazine from the bottom, as an intern over 20 years ago, organizing Vogue Italia's vast archives. « It was like a graduate degree, » she said, stretching her arms wide to demonstrate how massive the magazine's archive was.
« You realize that a lot has been going on over the past few years. Until now, we have been dominated by the fashion gotha. »

Maino, now 41, slowly worked her way up and moved on to helping high-profile stylists like Anna dello Russo and Alice Gentilucci with photo shoots, she reminisces, before she became a stylist herself and later settled into her role as one of the most prominent talent scouts in the international industry.
Helping organizing the photo shoots, she said, is what sparked her curiosity and her hunger to find new designers and inspired her to visit more showrooms and take more trips.
Together with Sozzani, Maino launched Vogue Talents, a platform to promote unknown designers. Now in its eighth year (Who's on Next in its 12th), Vogue Talents has led to many more projects and initiatives, such as the Palazzo Morando showcase that happens twice a year during Milan Women's Fashion Week.
So what's the best way to get noticed by Sara Maino?
Instagram, for starters. She doesn't have a public account, but the social media platform is a quick way to give her a sense of how a brand communicates its message. The name of the brand is the first thing she looks for and then she examines how the photos are shot. Still, it is not easy to gauge at first blush, so she usually contacts the brand and asks for more information and material.
« Instagram, for sure, is an interesting way of researching. And then, of course, the quality of the collection is most crucial. Then it is also fundamental to have a clear idea who the brand's customer is, » she said.
And second, she appreciates quick visual presentations. « It is strange. I never receive emails with a 15-second film giving me an overall view of a collection. I am a totally reachable person, » she said, showing me one that caught her eye on her computer screen. In addition to the presentation's minimal approach, it had a noted cadence and incorporated an emotional soundtrack.
The most thankful to Sara are some of the most improbable cases, like Nicoló Giannico Beretta, the 20-year-old shoe designer whose talent echoes that of one of his idols — Manolo Blahnik. Beretta was among the 2015 winners of Who's on Next. But Beretta met Maino when he was only 17 in a showroom in Milan.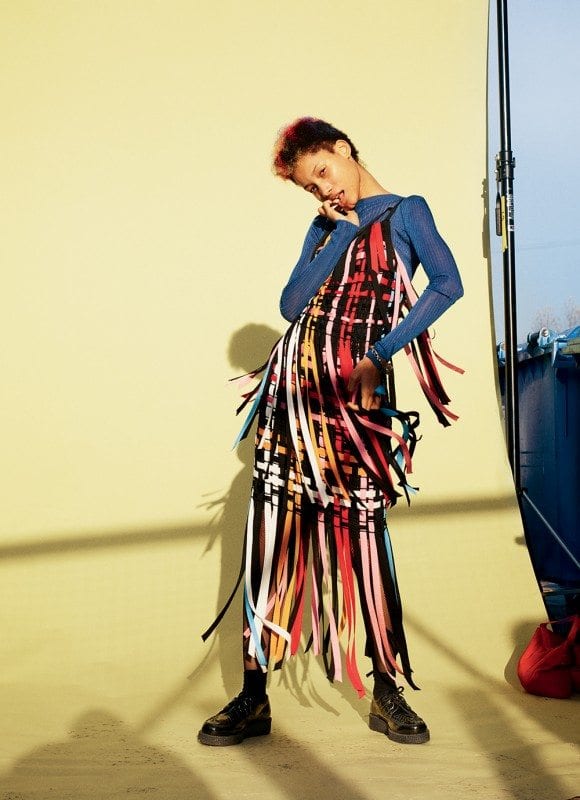 « Working with Sara is always interesting, she keeps involving me in amazing projects that empower my work as a designer, » Beretta said.
Fashion industry events like Pitti Immagine, Alta Roma, and White and Trieste's ITS contest, as well as prizes like the LVMH Prize for Young Fashion Designers and the Woolmark Prize, have all been crucial in bringing about the changing of the guard that we are witnessing today.
Giorgio Armani also opens up his theater to a promising new act every season. While cashmere king Brunello Cucinelli has also opened an artisan academy at his Umbrian headquarters to teach and shape the menswear designers of tomorrow.
But prior to this « helping hand » phenomenon, young talent and small enterprises were not being promoted — in part due to biased reporting and pressure placed on magazines to please advertisers and vanguard brands.
« Organizations like Pitti Immagine do a lot to help young designers by giving them a platform, visibility and exposure to the biggest menswear buyers in the industry. Womenswear is much more complex, » said Linda Loppa, a fashion veteran who is now spearheading a Strategy & Vision platform based in Paris to consolidate and develop global relations and better position Italy's Polimoda Fashon School.
« Surely Sara's role in Vogue Talent and with other initiatives has been fundamental. Nobody before her really focused on promoting newcomers, » said Milan Politecnico University professor Paola Bertola, who also co-curated « The Vocabulary of Italian Fashion » exhibit, which paid homage to the industry's new icons.
« I think it is important for students to interact with designers who are reachable and who can actually spend time with them and teach them how the industry works. »
When she is not traveling to places like Helsinki, Tel Avivi, Tokyo and Addis Ababa to hunt down future hopefuls and running to presentations during fashion week, she goes through hundreds of emailed presentations and is online reviewing portfolios from the « Vogue Upload your Vogue Talent » that the Vogue Italia team started in September.
And when the fanfare and social media hype of the shows fade, Maino works all year round assisting designers in finding the right connections: the right factory and forging relationships with more experienced designers who can offer practical advice.
« I think it is important for students to interact with designers who are reachable and who can actually spend time with them and teach them how the industry works, » Maino said.
At the end of the interview, she sits back in her cluttered office and reflects on her career. « Seeing them go on gives me the greatest pleasure in the end of the day. You cannot always expect in this industry that people will say thank you, but to see that I infused it with a new vibe and the birth of a new generation. That keeps me going on, » she said.
[ess_grid alias= »antidote-home2″]
Les plus lus
Que faut-il retenir de la fashion week de Londres ?