This week Sonia Rykiel passed away at the age of 86. The legacy that she leaves the fashion world, with her positive and empowering designs, is without precedence. Antidote pays homage to this remarkable woman.
Over the years I had the pleasure of interviewing Sonia Rykiel a handful of times. What always struck me about the designer was her frank, straightforward way of talking. She had a fearlessness about her that people who know they have left their mark on the world always do. She didn't care if you liked what she had to say or agreed with her, she was her own woman and would be taken on her own terms – or not at all.
This sort of self empowerment was at the heart of her success as a business woman. After all she started her company in the first place when she couldn't find maternity clothes she liked while pregnant with her daughter Nathalie. Taking things into your own hands and manifesting your own destiny was what Rykiel wanted to give women with her clothing. That's certainly what she did with her iconic "poor boy" form fitted striped ribbed sweater. Audrey Hepburn famously snapped up 14 of them, one in every color, on one shopping spree. While Françoise Hardy perfectly embodied the Rykiel woman when she was shot for the cover of French Elle back in 1963 wearing one the famed knit sweaters.
Rykiel was about femininity and feminism. She wanted to create clothing for women that would work as hard as they did. Garments made to flatter, allowed freedom of movement for a woman on the go and had a playful sexy undercurrent that always bubbled through. Flicking back over her shoulder her mane of frothy red hair Rykiel would sketch page after page of whimsical drawings filled with images of wavy haired girls with berets or flowers in their tresses wearing roomy trousers, voluminous jumpsuits, colorful knit sweater tops and polka dot dresses. Charming and seductive, her designs were about the beauty of everyday chic and how feeling good in your clothing helped to make you look good in them too.
Sonia Rykiel spring-summer 1990 and spring-summer 1995
During her reign at her signature house the Rykiel catwalk shows were always a "cheer me up" moment on the fashion calendar. Watching models laugh, smile and dance down her runway would always make the fashion fatigue of a month of ready-to-wear collections fade away. Season after season I remember watching a whole audience of die-hard fashion editors and journalist smiling and tapping their feet to Rykiel's infections upbeat soundtracks as they watched the happy-go-lucky models walk by. This was no small feat, and pointed to the power the designer had to shift, if only for the space of 15 minutes, the fashion conversation to something that was always positive and motivating.
As much as Rykiel liked to have a good time she was also an innovator and was ahead of her time on quite a number of sartorial fronts. When she wove in lines of poetry and sayings into her knitwear she was foreshadowing the whole message t-shirt phenomenon that still has pride of place in fashion today. She also got rid of visible hemlines and, before the whole deconstructionist fashion movement was born, she was deliberately designing pieces with the seams of the garment on the outside. Even the velour tracksuits she outfitted with rhinestones and sent down her runways far predated the current trend of luxury activewear sweeping fashion.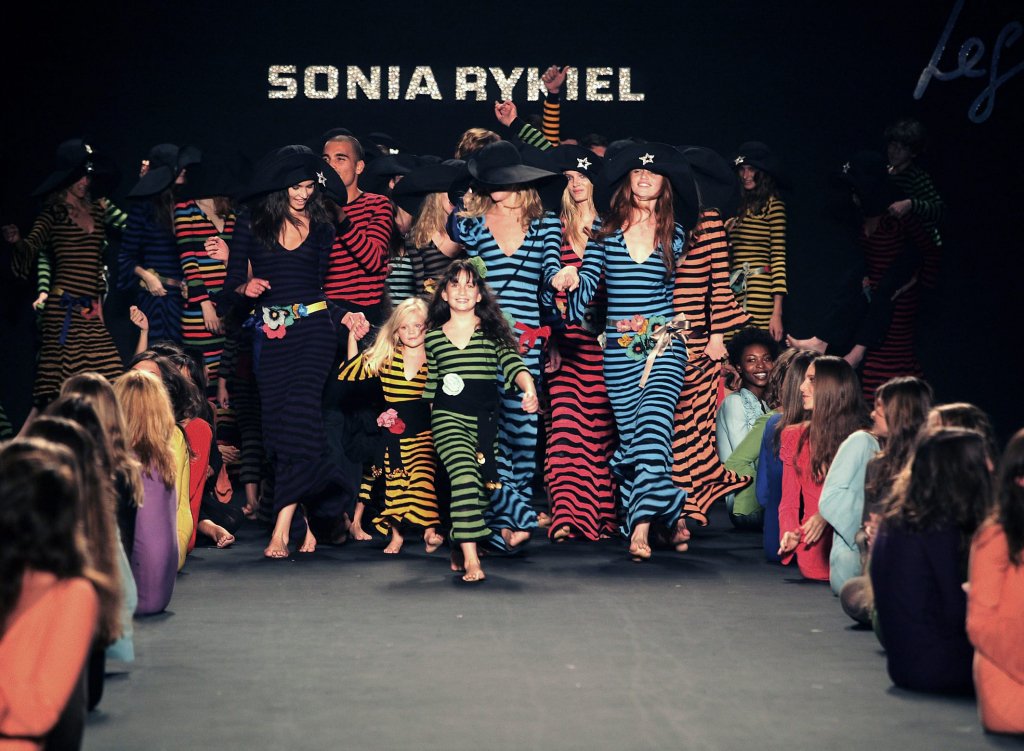 Sonia Rykiel printemps-été 2005
When she celebrated the 40th anniversary of her brand with a retrospective exhibition at the Musee des Arts Decoratifs in Paris the most compelling aspect of the exhibit was just how modern and current Rykiel designs from the 60s, 70s, and 80s looked in 2010. It was apparent that the Sonia Rykiel brand wasn't about fashion. It was about building a lasting style. At that time the designer herself told me that "the Rykiel woman is the same woman that I designed for 40 years ago, she is just 40 years older, and now I just also design for the daughter of that woman, and the granddaughter of that woman too".
So who is this Sonia Rykiel woman that the founder spent her lifetime representing with her designs? She is smart, chic, sexy and fun. And when you think about it, what woman wouldn't want to be all of those things?
[ess_grid alias= »antidote-home2″]
Les plus lus
Que faut-il retenir de la fashion week de Londres ?