Byline : Jessica Michault
Photo : courtesy of Louis Vuitton
Whenever Kim Jones returns to his roots he comes up with a winning collection for Louis Vuitton. So when he combined his memories of the time he spent in Kenya as a child, following his hydro-geologist father around the country, with the equality formative years he spent as a young man in London, the result was a collection chock-a-block with covetable pieces. Outfits that telegraphed a more youthful and rebellious energy, without every losing sight of the luxe factor.
As David Beckham and Kate Moss looked on from the front row under a blazing summer sun, Jones presented pieces imbued with animalistic vigor. In the case of the garments that featured illustrations of animals created by Jake and Dinos Chapman (the silk shirts, the sleeveless sweaters and the nylon jacquard overcoats) the effect was almost that of a spirit animal as the drawings absolutely elevated the garments and gave them compelling allure.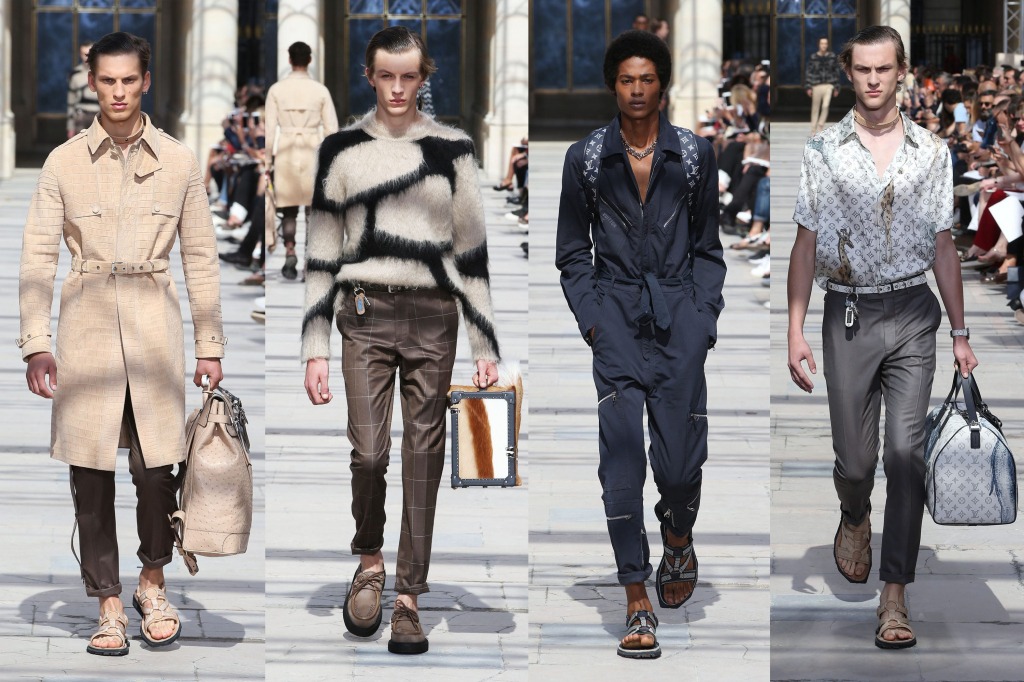 Louis Vuitton menswear spring-summer 2017
The use of mohair was another ingenious way to subtly depict the unique patterns of, say, a Springbok's pelt. And why not figure a zebra's stripes on calf leather. To make them feel fresh and a bit radical Jones used vibrant colors to impart a punky attitude to his animal based designs.
Other punk elements included some naughty see-through Louis Vuitton Monogram rain coats, slim trousers with a single zipper shooting down the back of each leg and an abundance of plaid tartan fabric. The designer also looked there for his accessories picking combination lock necklaces, padlock key earrings and carabiner key chains. All right in keeping with the theme of the show, fit to make for some fantastic aspirational purchases come next spring.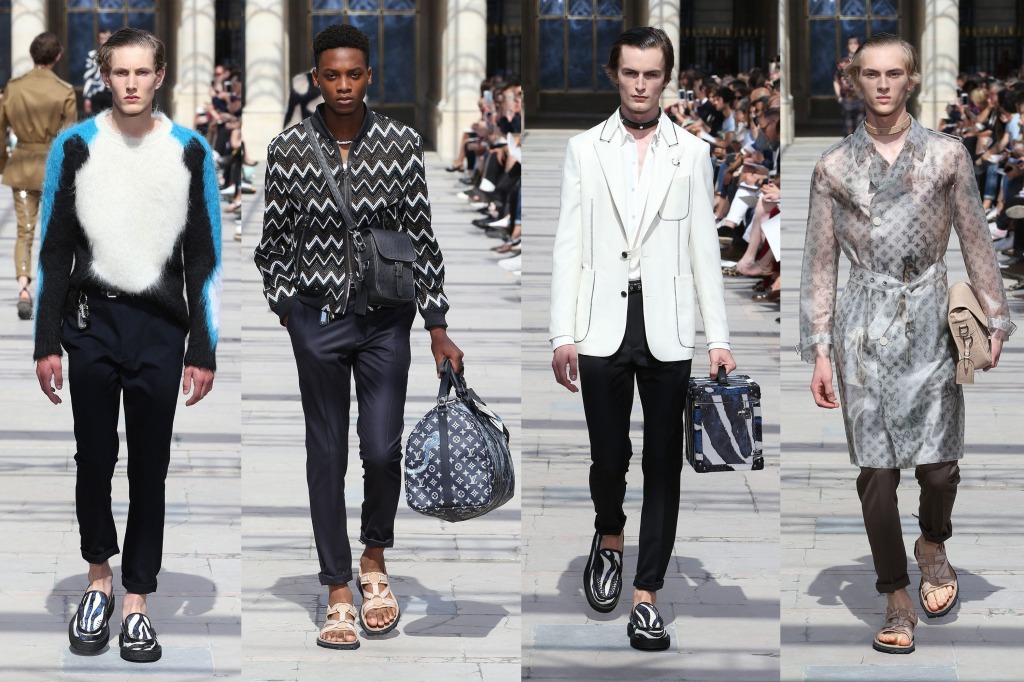 Louis Vuitton menswear spring-summer 2017
And for those who can afford to take it to the next level at Louis Vuitton, the bags this season were some of the most delightful the designer has presented in a while. A bookcase trunk covered in a punky springboks – yes please. And while you are at it, why not also invest in a monogrammed steamer bag that features one of the Chapman brother's bug-eyed elephants? The waiting list starts right behind me.
[ess_grid alias= »antidote-home2″]
Les plus lus
Fashion Week : suivez le défilé Givenchy printemps-été 2019 en direct à 20h30