Demna Gvasalia means business with his first collection as the creative director of Balenciaga. There was the invitation to the show — a classic, but still chic, business card. Then the venue — a square box space with walls padded for sound like a recording studio, or a insane asylum cell, depending on who you ask. And finally the surround sound speaker situation was also no amateur affair.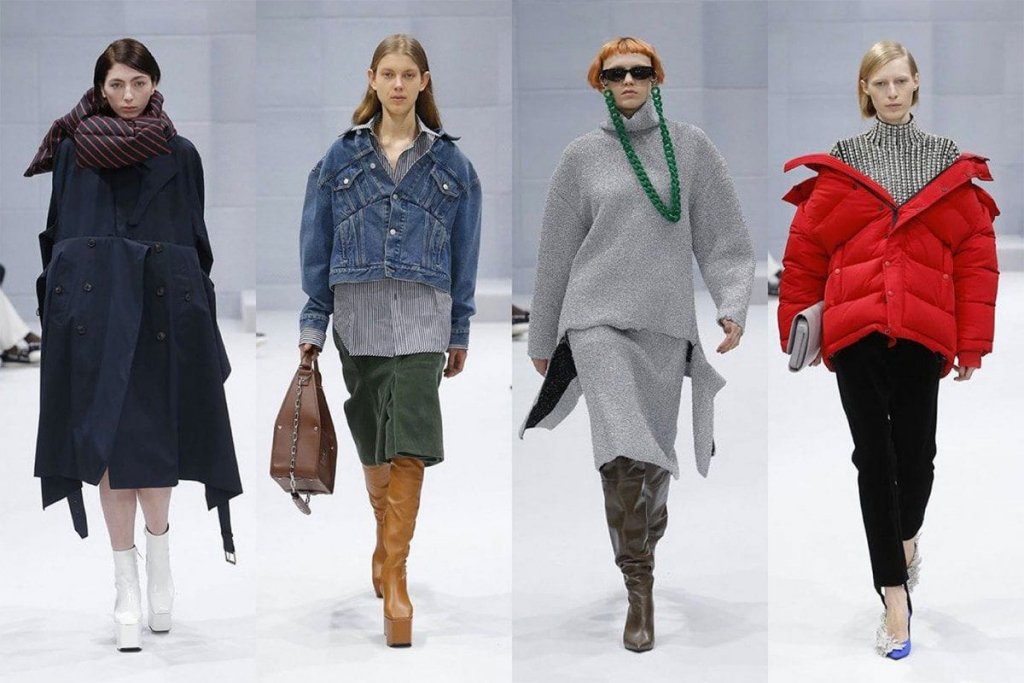 On the runway too Gvalsalia was focused on building a collection where the bottom line was clearly just as important as creativity, melding the worlds of sophistication and sports in clothing designed to exaggerate or obscure the female form. He added to it covetable aspirational accessories like outsized totes, maxi clutch and sturdy chain link shoulder bags as well as statement shades and shoes both practical (pointy toed boots) and fashion forward (glam rock high platform boots). 
The clothing played with the codes of the house set down by its founder. Gvalsalia added artisanal flair honed from the years he spent working at Masion Martin Margiela. For example the stiff frontal volume Cristóbal loved was referenced by Gvalsalia in what looked to be a suit jacket layered on top of skirts —similar to the way a woman would cover her legs if she was cold — or more simply by folding excess fabric along the hemline of shimmer retro 70s style print dresses. 
Other Balenciaga sartorial calling cards were a fascination with cocooning shapes and dramatic collars. In Gvalsalia's hands, this was reenvisioned as colorful oversized puffer jackets worn off the shoulders so that tops shimmering underneath could shine out, or windowpane-checked dresses built to stand slightly away from the body. The stylistic choice of having urban chic staples like a denim jacket, trench coat or perfecto worn off the fresh faced models' shoulders was a nod to the classic Balenciaga portrait collar. 
The kooky clashing floral dresses that looked like they were fabricated from vintage remnants  which came paired with candy cane striped stockings felt like a step too far from the luxe world. But the final five retro flavored coats had a contemporary cool that will make them hot ticket items from this collection's intriguing offerings.
[ess_grid alias= »antidote »]
Les plus lus
Fashion Week : suivez le défilé Givenchy printemps-été 2019 en direct à 20h30